Niveles de testosterona libre en pacientes del sexo masculino con diabetes mellitus tipo 2
Oscar Marcelo González Jiménez

Hospital de Clínicas

Ursino Adrian Barrios Machain

Hospital de Clínicas

Marcia Solange De Oliveira Rotela

Hospital de Clínicas

Marco Antonio Caballero Ydoyaga

Hospital de Clínicas

María Alejandra Caffarena Ramírez

Hospital de Clínicas
Palabras clave:
diabetes mellitus 2, testosterona libre, HbA1c, índice de masa corporal
Resumen
Los niveles disminuidos de testosterona están asociados con esterilidad e impotencia sexual. El objetivo del presente estudio fue investigar la relación entre diabetes mellitus (DM) tipo 2 con los niveles de testosterona libre y si ésta se correlaciona con la HbA1c y IMC. Se analizó las concentraciones séricas de testosterona libre en 10 varones con un índice de masa corporal (IMC) medio de 27,4 kg/m2, edad media 46,4 años, provenientes de zonas urbanas, que asisten a la Tercera Cátedra de Clínica Médica y el Programa Nacional de Diabetes. Las concentraciones promedio de testosterona libre fueron menores a los rangos considerados normales: 10,29 mg/dL vs 13-35 mg/dL. El valor promedio de HbA1c fue 6,43%. No se encontró correlación entre el IMC y la testosterona libre. Se deduce en esta serie de casos que los pacientes diabéticos tienen niveles reducidos testosterona libre y que la misma no se correlaciona con la HbA1c ni el IMC.
Citas
Chaves G, Brítez N, Maciel V, Klinkhof A, Mereles D. Prevalence of cardiovascular risk factors in an urban ambulatory adult population: AsuRiesgo study, Paraguay. Rev Panam Salud Pública. 2015 Aug;38(2):136-43.
Jimenez JT, Palacios M, Cañete F, Barriocanal LA, Medina U, Figueredo R, Martinez S, de Melgarejo MV, Weik S, Kiefer R, Alberti KG, Moreno-Azorero R. Prevalence of diabetes mellitus and associated cardiovascular risk factors in an adult urban population in Paraguay. Diabet Med. 1998 Apr;15(4):334-8.
Sanabria Pérez C, Díaz Pérez JA. Evaluation of testosterone levels through distinct analytic methods in healthy men. Endocrinol Nutr. 2010 Aug-Sep;57(7):301-5.
Tirabassi G, Muscogiuri G, Colao A, Balercia G. Dysregulation of the hypothalamic-pituitary-adrenal axis increases central body fat accumulation in males affected by diabetes mellitus and late-onset hypogonadism. Endocr Pract. 2015 Dec 18
Tirabassi G, Chelli FM, Ciommi M, Lenzi A, Balercia G. Influence of the hypothalamic-pituitary-adrenal axis dysregulation on the metabolic profile of patients affected by diabetes mellitus-associated late onset hypogonadism. Nutr Metab Cardiovasc Dis. 2015 Oct 24. pii: S0939-4753(15)00220-3.
Barrett-Connor E, Khaw KT, Yen SS. Endogenous sex hormone levels in older adult men with diabetes mellitus. Am J Epidemiol. 1990 Nov;132(5):895-901.
Dandona P, Dhindsa S, Chandel A, Topiwala S. Bajo nivel de testosterona en varones con diabetes tipo 2: una preocupación para la salud pública. Diabetes Voice 2009; 54(2): 27-29. Disponible en: https://www.idf.org/sites/default/files/attachments/2009_2_Dandona%20et%20al_ES.pdf
A. de la Sierra Iserte. Tablas de referencia y valores normales de las pruebas de laboratorio más habituales. En: Farreras, Rozman. Medicina interna 16 edición, volumen 2. Editorial Elsevier; 2009. p. A-3 - A-14
Sanabria Pérez C, Díaz Pérez JA. Evaluation of testosterone levels through distinct analytic methods in healthy men. Endocrinol Nutr. 2010 Aug-Sep;57(7):301-5.
Rodríguez-Tolrà J, Domínguez García A, Torremadé Barreda J, Rodríguez Pérez D, Franco Miranda E. Importancia de la testosterona libre calculada en el diagnóstico del síndrome de déficit de testosterona. Revista internacional de Andrología: salud sexual y reproductiva. 2010;8(2):85-88.
Bhatia V, Chaudhuri A, Tomar R, Dhindsa S, Ghanim H, Dandona P. Low testosterone and high C-reactive protein concentrations predict low hematocrit in type 2 diabetes. Diabetes Care. 2006 Oct;29(10):2289-94.
Harris MI, Flegal KM, Cowie CC, Eberhardt MS, Goldstein DE, Little RR, Wiedmeyer HM, Byrd-Holt DD. Prevalence of diabetes, impaired fasting glucose, and impaired glucose tolerance in U.S. adults. The Third National Health and Nutrition Examination Survey, 1988-1994. Diabetes Care. 1998 Apr;21(4):518-24.
Flegal KM, Troiano RP. Changes in the distribution of body mass index of adults and children in the US population. Int J Obes Relat Metab Disord. 2000 Jul;24(7):807-18.
Kapoor D, Jones TH. Androgen deficiency as a predictor of metabolic syndrome in aging men: an opportunity for intervention? Drugs Aging. 2008;25(5):357-69.
Dhindsa S, Miller MG, McWhirter CL, Mager DE, Ghanim H, Chaudhuri A, Dandona P. Testosterone concentrations in diabetic and nondiabetic obese men. Diabetes Care. 2010 Jun;33(6):1186-92.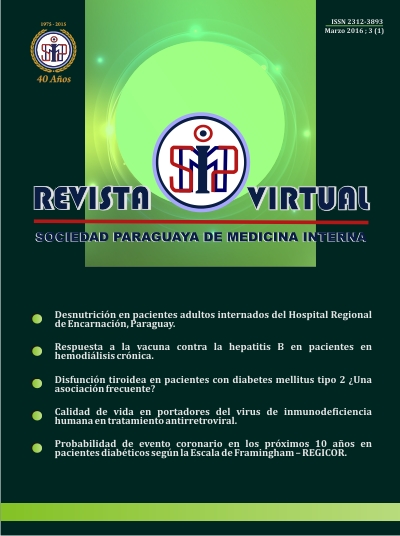 Sección
REPORTES DE CASOS