Enterobacterias productoras de carbapenemasas en pacientes del Servicio de Clínica Médica del Hospital Nacional de Itauguá
Juan Gabriel Ocampos Ugarte

Hospital Nacional, Itauguá.
Palabras clave:
bacterias con enzimas carbapenemasas, brote nosocomial, frecuencia, factores de riesgo
Resumen
Introducción: las bacterias con enzimas carbapenemasas (KPC) tienen una gran capacidad de diseminación, son causantes de brotes nosocomiales y se asocian a mayor mortalidad y estancia hospitalaria.
Objetivos: determinar la frecuencia de KPC en el Servicio de Clínica Médica del Hospital Nacional y determinar los factores de riesgo asociados.
Materiales y método: estudio observacional, descriptivo, prospectivo, de corte transversal, que se realizó mediante hisopado rectal a 63 pacientes internados en el Servicio de Clínica Médica del Hospital Nacional entre octubre y noviembre del 2014.
Resultados: la edad media de la muestra fue 51±15 años, el 50% de sexo masculino. En 13% de los pacientes se obtuvo un resultado positivo para KPC, el tiempo promedio de internación de éstos fue de 30±33 días vs 27±26 días de los pacientes KPC negativo. El único factor de riesgo significativo fue la cohabitación con otros pacientes con KPC.
Conclusiones: la frecuencia de KPC en el Servicio de Clínica Médica del Hospital Nacional de Itauguá fue 13%. El principal factor de riesgo para adquirir KPC es la cohabitación con un paciente colonizado por el mismo germen.
Citas
Martínez Vidal M, Andrés de Cosa R de, Astray Mochales J, Lópaz Pérez MA, Ansede Cascudo JC, Ramos Cordero P, coordinadores. Plan de prevención y control frente a la infección por Enterobacterias Productoras de Carbapenemasas (EPC) en la Comunidad de Madrid. /Internet/. Madrid. 2013. /citado 2014 nov 19/. Disponible en http://www.madrid.org/cs/Satellite?blobcol=urldata&blobheader=application%2Fpdf&blobheadername1=Content-disposition&blobheadername2=cadena&blobheadervalue1=filename%3DPLAN+PREVENCI%C3%93N+Y+CONTROL+EPC+CM_v1_sept+2013.pdf&blobheadervalue2=language%3Des%26site%3DPortalSalud&blobkey=id&blobtable=MungoBlobs&blobwhere=1352838664739&ssbinary=true
Nicola FG, Nievas J, Smayevsky J. Evaluación de diversos métodos fenotípicos para la detección de carbapenemasas KPC en Klebsiella pneumoniae. Rev Argen Microbiol. 2012; 44(4): 290-302.
Papp-Wallace KM, Endimiani A, Taracila MA, Bonomo RA. Carbapenems: past, present, and future. Antimicrob Agents Chemother. 2011 Nov; 55(11): 4943-60.
Nordmann P, Naas T, Poirel L. Global spread of Carbapenemase-producing Enterobacteriaceae. Emerg Infect Dis. 2011 Oct; 17(10): 1791-8.
Souli M, Galani I, Antoniadou A, Papadomichelakis E, Poulakou G, Panagea T, et al. An outbreak of infection due to beta-Lactamase Klebsiella pneumoniae Carbapenemase 2-producing K. pneumoniae in a Greek University Hospital: molecular characterization, epidemiology, and outcomes. Clin Infect Dis. 2010 Feb 1; 50(3): 364-73.
Cantón R, Akóva M, Carmeli Y, Giske CG, Glupczynski Y, Gniadkowski M, et al. Rapid evolution and spread of carbapenemases among Enterobacteriaceae in Europe. Clin Microbiol Infect. 2012 May; 18(5): 413-31.
Casellas JM. Antibacterial drug resistance in Latin America: consequences for infectious disease control. Rev Panam Salud Pública. 2011 Dec; 30(6): 519-28.
Gutiérrez C, Labarca J, Román JC, Sanhueza F, Moraga M, Wozniak, García P. Vigilancia de enterobacterias productoras de carbapenemasas en cultivos rectales en un hospital universitario de Santiago, Chile. Rev Chil Infectol. 2013; 30(1): 103-6
Pacheco R, Osorio L. Prevalencia de bacterias Gram negativas portadoras del gen bla KPC en hospitales de Colombia. Biomédica 2014; 34(1):81-90
Echeverri-Toro LM, Rueda ZV, Maya W, Agudelo Y, Ospina S. Klebsiella pneumoniae multi-resistente, factores predisponentes y mortalidad asociada en un hospital universitario en Colombia. Rev Chil Infectol. 2012; 29(2): 175-82
González AC, Nieves B, Solórzano M, Cruz J, Puig J, Moreno M. Caracterización de cepas de Klebsiella pneumoniae productora de b-lactamasa de espectro extendido aisladas en dos unidades de cuidados intensivos. Rev Chil Infectol. 2013; 30(4): 374-80
Tumbarello M, Trecarichi EM, De Rosa FG, Giannella M, Giacobbe DR, Bassetti M, et al. Infections caused by KPC-producing Klebsiella pneumoniae: differences in therapy and mortality in a multicentre study. J Antimicrob Chemother. 2015 Jul; 70(7): 2133-43.
Melgarejo N, Martínez M, Franco R, Falcón M. Enterobacterias resistentes a Carbapenemes por producción de KPC, aisladas en hospitales de Asunción y Departamento Central. Rev Salud Pública Parag. 2013; 3(1): 30-5.
Bernal C, Rodríguez M, Gómez G, Takahashi V, Martínez H, Vega Me. Estudio de brote por Klebsiella pneumoniae multiresistente y productora de Carbapenemasa en una Unidad de Cuidados Intensivos de adultos (UCIA). Rev Inst Med Trop. 2011; 6 (Supl.): 43-4. Disponible en: http://www.imt.edu.py/admin/uploads/Documento/suplemento.pdf
Brusaferro S, Cookson B, Kalenic S, Cooper T, Fabry J, Gallagher R, et al. Training infection control and hospital hygiene professionals in Europe, 2010: Agreed core competencies among 33 European countries. Eurosurveillance. 2014 Dec 11; 19(49):45-54.
Brink A, Coetzee J, Clay C, Corcoran C, van Greune J, Deetlefs JD, et al. The spread of carbapenem-resistant Enterobacteriaceae in South Africa: risk factors for acquisition and prevention. S Afr Med J. 2012 May 10; 102(7): 599-601.
Endimiani A, Hujer AM, Perez F, Bethel CR, Hujer KM, Kroeger J, et al. Characterization of blaKPC-containing Klebsiella pneumoniae isolates detected in different institutions in the Eastern USA. J Antimicrob Chemother. 2009 Mar; 63(3): 427-37.
Endimiani A, Perez F, Bajaksouzian S, Windau AR, Good CE, Choudhary Y, et al. Evaluation of updated interpretative criteria for categorizing Klebsiella pneumoniae with reduced carbapenem susceptibility. J Clin Microbiol. 2010 Dec; 48(12): 4417-25.
Vading M, Samuelsen O, Haldorsen B, Sundsfjord AS, Giske CG. Comparison of disk diffusion, Etest and VITEK2 for detection of carbapenemase-producing Klebsiella pneumoniae with the EUCAST and CLSI breakpoint systems. Clin Microbiol Infect. 2011 May; 17(5): 668-74.
Lartigue MF, Poirel L, Poyart C, Réglier-Poupet H, Nordmann P. Ertapenem resistance of Escherichia coli. Emerg Infect Dis. 2007 Feb; 13(2): 315-7.
Doumith M, Ellington MJ, Livermore DM, Woodford N. Molecular mechanisms disrupting porin expression in ertapenem-resistant Klebsiella and Enterobacter spp. clinical isolates from the UK. J Antimicrob Chemother. 2009 Apr; 63(4): 659-67.
Tsakris A, Kristo I, Poulou A, Themeli-Digalaki K, Ikonomidis A, Petropoulou D, et al. Evaluation of boronic acid disk tests for differentiating KPC-possessing Klebsiella pneumoniae isolates in the clinical laboratory. J Clin Microbiol. 2009 Feb; 47(2): 362-7.
Pasteran F, Mendez T, Guerriero L, Rapoport M, Corso A. Sensitive screening tests for suspected class A carbapenemase production in species of Enterobacteriaceae. J Clin Microbiol. 2009 Jun; 47(6): 1631-9.
Giske CG, Gezelius L, Samuelsen O, Warner M, Sundsfjord A, Woodford N. A sensitive and specific phenotypic assay for detection of metallo-β-lactamases and KPC in Klebsiella pneumoniae with the use of meropenem disks supplemented with aminophenylboronic acid, dipicolinic acid and cloxacillin. Clin Microbiol Infect. 2011 Apr; 17(4): 552-6.
Poirel L, Potron A, Nordmann P. OXA-48-like carbapenemases: the phantom menace. J Antimicrob Chemother. 2012 Jul; 67(7): 1597-606.
Samra Z, Bahar J, Madar-Shapiro L, Aziz N, Israel S, Bishara J. Evaluation of CHROMagar KPC for rapid detection of carbapenem-resistant Enterobacteriaceae. J Clin Microbiol. 2008 Sep; 46(9): 3110-1.
Nordmann P, Girlich D, Poirel L. Detection of carbapenemase producers in Enterobacteriaceae by use of a novel screening medium. J Clin Microbiol. 2012 Aug; 50(8): 2761-6.
Patel G, Huprikar S, Factor SH, Jenkins SG, Calfee DP. Outcomes of carbapenem-resistant Klebsiella pneumoniae infection and the impact of antimicrobial and adjunctive therapies. Infect Control Hosp Epidemiol. 2008 Dec; 29(12):1099-106.
Zahar JR, Timsit JF, Garrouste-Orgeas M, Français A, Vesin A, Descorps-Declere A, et al. Outcomes in severe sepsis and patients with septic shock: pathogen species and infection sites are not associated with mortality. Crit Care Med. 2011 Aug; 39(8): 1886-95.
Centers for Disease Control and Prevention (CDC). Guidance for control of infections with carbapenem-resistant or carbapenemase-producing Enterobacteriaceae in acute care facilities. MMWR Morb Mortal Wkly Rep. 2009 Mar 20; 58(10): 256-60.
Gasink LB, Edelstein PH, Lautenbach E, Synnestvedt M, Fishman NO. Ris factors and clinical impact of Klebsiella pneumonia carbapenemase producing K. pneumonia. Infect Control Hosp Epidemiol. 2009; 30(12): 1180-5.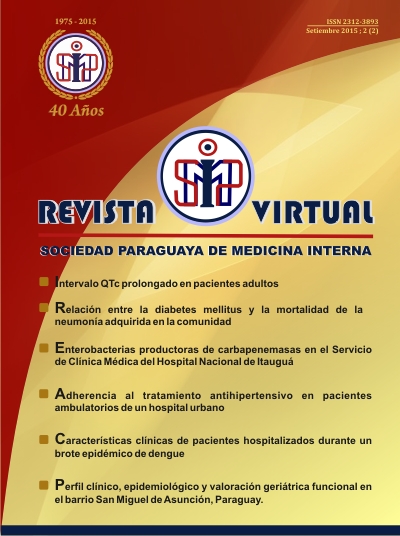 Sección
ARTICULOS ORIGINALES