Intervalo QTc prolongado en pacientes de Clínica Médica: estudio multicéntrico
Tatiana Roy

Universidad Privada del Este

Ruth Peralta Giménez

Universidad Privada del Este

Lilian Celeste Gamarra Cardozo

Universidad Privada del Este

Laura María Núñez Vera

Universidad Privada del Este

Micaela Carolina Santacruz Sosa

Universidad Privada del Este

Viviana Beatriz Alarcón Maciel

Universidad Privada del Este

Claudia Jazmín Sigmund Brítez

Universidad Privada del Este

Paola Magdalena Báez Correa

Universidad Privada del Este

Janina Comán González

Universidad Privada del Este

Alex Cristaldo Ramírez

Universidad Privada del Este

Milko Daniel Duré Benítez

Universidad Privada del Este

Dahiana Estigarribia Flecha

Universidad Privada del Este

Héctor Eduardo Gill Maidana

Universidad Privada del Este

Patricia Giménez Sánchez

Universidad Privada del Este

Carlos Joel Gómez Figueredo

Universidad Privada del Este

Edgar González Ramírez

Universidad Privada del Este

Liliana López González

Universidad Privada del Este

Emanuel Núñez González

Universidad Privada del Este
Palabras clave:
síndrome de QT prolongado, electrocardiografía, arritmias cardiacas, muerte súbita, Medicina Interna
Resumen
Antecedentes: el síndrome de QT prolongado (SQTP) adquirido se asocia al uso de ciertos fármacos. La detección oportuna del SQTP permite tomar medidas para prevenir arritmias ventriculares potencialmente letales.
Objetivo: determinar la frecuencia de SQTP en pacientes adultos internados en Servicios de Clínica Médica, describir las características demográficas, clínicas, laboratoriales y el uso de fármacos asociados con la prolongación del intervalo QTc. 
Materiales y métodos: se aplicó diseño observacional, prospectivo, longitudinal, en varones y mujeres, mayores de 16 años de edad, internados en el Servicio de Clínica Médica del Hospital Nacional (Itauguá, Paraguay) y del Hospital Militar Central (Asunción, Paraguay) en 2019. Se midieron variables demográficas, clínicas, laboratoriales y un electrocardiograma (ECG) al ingreso y a la semana de internación. Se consideró STQL todo valor del intervalo QTc ≥0,45 seg en hombres y ≥0,47 seg en mujeres.
Resultados: ingresaron al estudio 257 sujetos, 55% varones y 45% mujeres, con edad media 58±20 años. Se detectó SQTP en 55 pacientes (21%). Los fármacos más utilizados en los pacientes con SQTP fueron omeprazol, furosemida, piracilina-tazobactam, tramadol, ondasentrón, amiodarona, salbutamol, ciprofloxacina, antirretrovirales, levofloxacina, metoclopramida y cotrimoxazol.
Conclusión: la frecuencia de SQTP fue 21%. La comorbilidad más frecuente fue la hipertensión arterial (62%). Los fármacos más utilizados en los pacientes con SQTP fueron los de uso común en las salas de Clínica Médica.
Citas
Márquez MF. El síndrome de QT largo: una breve revisión del diagnóstico electrocardiográfico incluyendo la prueba de Viskin. Arch Cardiol Mex. 2012;82(3):243–7.
Zareba W, Kligfield P, Ackerman MJ, Drew BJ, Menon V, Philippides GJ, et al. Prevention of Torsade de Pointes in Hospital Settings. Circulation. 2010;55(9):934–47.
Dubner SJ, Moss AJ, Pérez Riera AR, Schapachnik E. El síndrome del intervalo QT prolongado desde el punto de vista de un cardiólogo. Rev Argent Cardiol. 2004;72(6):467–73.
Zaręba W. Drug induced QT prolongation. Cardiol J. 2007;14(6):523–33.
Lama A. La medición del intervalo QT: Una competencia médica a mejorar. Rev Med Chil. 2008;136(7):948–9.
Cubeddu L. Drug-induced Inhibition and Trafficking Disruption of ion Channels: Pathogenesis of QT Abnormalities and Drug-induced Fatal Arrhythmias. Curr Cardiol Rev. 2016;12(2):141–54.
Khan Q, Ismail M, Haider I, Ali Z. Prevalence of the risk factors for QT prolongation and associated drug–drug interactions in a cohort of medical inpatients. J Formos Med Assoc. 2019;118(1P1):109–15.
Niemeijer MN, van den Berg ME, Eijgelsheim M, Rijnbeek PR, Stricker BH. Pharmacogenetics of Drug-Induced QT Interval Prolongation: An Update. Drug Saf. 2015;38(10):855–67.
Sasaoka S, Matsui T, Hane Y, Abe J, Ueda N, Motooka Y, et al. Time-to-Onset Analysis of Drug-Induced Long QT Syndrome Based on a Spontaneous Reporting System for Adverse Drug Events. PLoS One. 2016;11(10):e0164309.
Carreras Calvo F, Castellanos Rojas R, Perozo Panicello R, Ramírez Lana L. Síndrome del QT largo y muerte súbita cardiovascular. Rev Arch Med Camagüey. 2015;19(3):279–87.
Vincenzi FF. Drug-induced long QT syndrome increases the risk of drowning. Med Hypotheses. 2016;87:11–3.
Haugaa K, Bos J, Tarrell R, Morlan B, Caraballo P, Ackerman M. Institution-Wide QT Alert System Identifies Patients With a High Risk of Mortality. Mayo Clin Proc. 2013;88(4):315–25.
Ramalho D, Freitas J. Drug-induced life-threatening arrhythmias and sudden cardiac death: A clinical perspective of long QT, short QT and Brugada syndromes. Rev Port Cardiol. 2018;37(5):435–46.
Turker I, Ai T, Itoh H, Horie M. Drug-induced fatal arrhythmias: Acquired long QT and Brugada syndromes. Pharmacol Ther. 2017;176:48–59.
Villamañán E, Armada E, Ruano M. Prolongación del intervalo QT inducido por fármacos: ¿conocemos sus riesgos? Med Clin. 2014;144(6):269–74.
González-Melchor L, Villarreal-Molina T, Iturralde-Torres P, Medeiros-Domingo A. Muerte súbita cardiaca en el corazón estructuralmente normal: una actualización. Arch Cardiol México. 2014;84(4):293–304.
Höcht C, Opezzo JAW, Taira CA. Intervalo QT prolongado inducido por fármacos desde el punto de vista de un farmacólogo. Rev Argent Cardiol. 2004;72(6):474–80.
Roden DM. Predicting drug-induced QT prolongation and torsades de pointes. J Physiol. 2016;594(9):2459–68.
Niedrig D, Maechler S, Hoppe L, Corti N, Kovari H, Russmann S. Drug safety of macrolide and quinolone antibiotics in a tertiary care hospital: administration of interacting co-medication and QT prolongation. Eur J Clin Pharmacol. 2016;72(7):859–67.
Woosley R, Heise C, Gallo T, Tate J, Woosley D, Romero K. QTdrugs List, AZCERT. www.CredibleMeds.org. 2019.
Schwartz PJ, Woosley RL. Predicting the Unpredictable: Drug-Induced QT Prolongation and Torsades de Pointes. J Am Coll Cardiol. 2016;67(13):1639–50.
García-Fuertes D, Villanueva-Fernández E, Crespín-Crespín M. Drug-Induced Long-QT and Torsades de Pointes in Elderly Polymedicated Patients. Arq Bras Cardiol. 2016;106(2):156–9.
Schächtele S, Tümena T, Gaßmann KG, Fromm MF, Maas R. Co-prescription of QT-interval prolonging drugs: An analysis in a large cohort of geriatric patients. PLoS One. 2016;11(5):e0155649.
Orellana M, Bello F, Escobar E, Adriazola P, Trejo P, González P. Prevalencia del intervalo QT prolongado en diferentes patrones electrocardiográficos. Estudio por teleelectrocardiografía. Rev Chil Cardiol. 2009;28(4):349–56.
Moreno-Gutiérrez PA, Gaviria-Mendoza A, Cañón MM, Machado-Alba JE. High prevalence of risk factors in elderly patients using drugs associated with acquired torsades de pointes chronically in Colombia. Br J Clin Pharmacol. 2016;82(2):504–11.
Khan Q, Ismail M, Haider I, Haq I ul, Noor S. QT interval prolongation in hospitalized patients on cardiology wards: a prospective observational study. Eur J Clin Pharmacol. 2017;73(11):1511–8.
Soriano-Mireno A, Flores-Malparida F. Comparación de cuatro fórmulas para ajustar el intervalo QT a la frecuencia cardiaca en pacientes cardiópatas. Rev Urug Med Interna. 2019;4(1):16–22.
Ginzo Cañete AD. Intervalo QTc prolongado en pacientes adultos. Rev Virtual Soc Parag Med Int. 2015;2(2):9–22.
Tisdale JE. Drug-induced QT interval prolongation and torsades de pointes: Role of the pharmacist in risk assessment, prevention and management. Can Pharm J. 2016;149(3):139–52.
2019 American Geriatrics Society Beers Criteria® Update Expert Panel. American Geriatrics Society 2015 Updated Beers Criteria for Potentially Inappropriate Medication Use in Older Adults. J Am Geriatr Soc. 2019;
Priori SG, Blomstrom-Lundqvist C, Mazzanti A, Bloma N, Borggrefe M, Camm J, et al. 2015 ESC Guidelines for the management of patients with ventricular arrhythmias and the prevention of sudden cardiac death. The Task Force for the Management of Patients with Ventricular Arrhythmias and the Prevention of Sudden Cardiac Death of the Europe. Eur Heart J. 2015;36(41):2793-2867l.
Itoh H, Crotti L, Aiba T, Spazzolini C, Denjoy I, Fressart V, et al. The genetics underlying acquired long QT syndrome: Impact for genetic screening. Eur Heart J. 2016;37(18):1456–64.
Khan Q, Ismail M, Haider I. High prevalence of the risk factors for QT interval prolongation and associated drug–drug interactions in coronary care units. Postgrad Med. 2018;130(8):660–5.
Fernandes FM, Silva EP, Martins RR, Oliveira AG. QTc interval prolongation in critically ill patients: Prevalence, risk factors and associated medications. PLoS One. 2018;13(6):e0199028.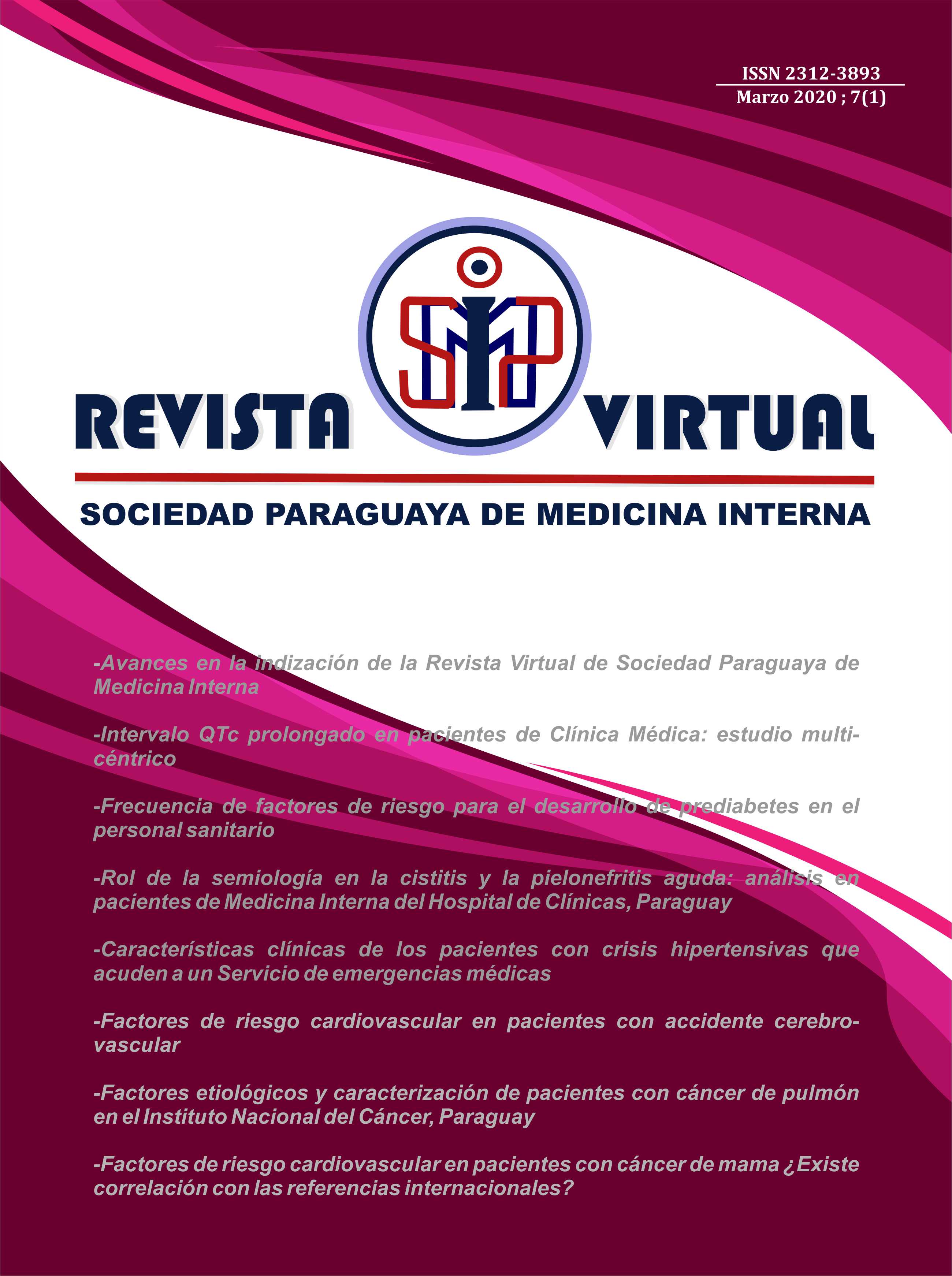 Sección
ARTICULOS ORIGINALES