Control adecuado de la presión arterial en adultos con medicación antihipertensiva de dos Unidades de Salud Familiar de Luque y Fernando de la Mora, Paraguay, 2018
Pedro Torres

Universidad Privada del Este

Rodrigo Centurión

Universidad Privada del Este

Rocío Maridey Medina Cubilla

Universidad Privada del Este

Jazmín Arací Portillo González

Universidad Privada del Este
Palabras clave:
hipertensión, antihipertensivos, enalapril, losartán
Resumen
Introducción: la reducción de la presión arterial es una meta en el tratamiento de la hipertensión arterial primaria.
Objetivos: determinar la frecuencia de control adecuado de la hipertensión arterial en adultos en tratamiento antihipertensivo de las Unidades de Salud Familiar de Luque y Fernando de la Mora, Paraguay.
Metodología: estudio observacional, transversal, prospectivo, con componentes analíticos realizado en pacientes adultos hipertensos tratados en dos Unidades de Salud Familiar durante agosto y septiembre 2018. Se evaluaron variables sociodemográficas y clínicas. Se consideró presión arterial adecuada a todo valor <140/90 mm Hg.
Resultados: se incluyeron 149 sujetos, con edad media 60±12 años, 68% del sexo femenino, 42% con sobrepeso-obesidad, 32% eran portadores de diabetes mellitus. Todos recibían tratamiento farmacológico antihipertensivo. El control adecuado de la hipertensión arterial se observó en 55%.
Conclusiones: el control adecuado de la hipertensión arterial en pacientes adultos de dos Unidades de Salud Familiar fue 55%. Los antihipertensivos más usados fueron los inhibidores de enzima convertidora de angiotensina y los antagonistas de los receptores de angiotensina II.
Citas
1. Ortellado Maidana J, Ramírez A, González G, Olmedo Filizzola G, Ayala de Doll M, Sano M, et al. Consenso paraguayo de hipertension arterial 2015. Rev virtual Soc Parag Med Int. 2016;3(2):11–57.
2. James PA, Oparil S, Carter BL, Cushman WC, Dennison-Himmelfarb C, Handler J, et al. 2014 evidence-based guideline for the management of high blood pressure in adults. Report from the panel members appointed to the Eighth Joint National Committee (JNC 8). Jama. 2014;311(5):507–20.
3. Chaves G, Brítez N, Maciel V, Klinkhof A, Mereles D. Prevalencia de factores de riesgo cardiovascular en una población adulta ambulatoria urbana: estudio AsuRiesgo, Paraguay. Rev Panam Salud Publica. 2015;38(2):136–43.
4. De Boer IH, Bakris G, Cannon CP. Individualizing blood pressure targets for people with diabetes and hypertension: Comparing the ADA and the ACC/AHA recommendations. JAMA. 2018;319(13):1319–20.
5. De Boer IH, Bangalore S, Benetos A, Davis AM, Michos ED, Muntner P, et al. Diabetes and hypertension: A position statement by the American Diabetes Association. Diabetes Care. 2017;40(9):1273–84.
6. Emdin CA, Rahimi K, Neal B, Callender T, Perkovic V, Patel A. Blood pressure lowering in type 2 diabetes: a systematic review and meta-analysis. Jama. 2015;313(6):603–15.
7. American Diabetes Association. 9. Cardiovascular disease and risk management: Standards of medical care in diabetes 2018. Diabetes Care. 2018;41(Suppl. 1):S86–104.
8. Fang J, Gillespie C, Ayala C, Loustalot F. Prevalence of self-reported hypertension and antihypertensive medication use among adults aged ≥ 18 years — United States, 2011 – 2015. MMWR. 2018;67(7):2019–24.
9. Sandoval D, Chacón J, Muñoz R, Henríquez Ó, Koch E, Romero T. Influencia de factores psicosociales en la adherencia al tratamiento farmacologico antihipertensivo. Resultados de una cohorte del programa de salud cardiovascular de la region metropolitana, Chile. Rev Med Chil. 2014;142(10):1245–52.
10. Casas Piedrahíta MC, Chavarro Olarte LM, Cardona Rivas D. Adhesión al tratamiento de la hipertensión arterial en dos municipios de Colombia. 2010-2011. Revista Hacia la Promoción la Salud. 2013;18(1):81–96.
11. Babiker FA, Elkhalifa LA, Moukhyer ME. Awareness of hypertension and factors associated with uncontrolled hypertension in Sudanese adults. Cardiovasc J Afr. 2013;24(6):208–12.



12. Herrera-Añazco P, Pacheco-Mendoza J, Valenzuela-Rodriguez G, Málaga G. Autoconocimiento, adherencia al tratamiento y control de la hipertensión arterial en el Perú: una revisión narrativa. Rev Peru Med Exp Salud Publica. 2017;34(3):497–504.
13. De Arriba De La Fuente G. Tratamiento de la hipertensión arterial. Criterios de individualización terapéutica. Medicine (Baltimore). 2010;10(69):4693–9.
14. Arce Kita JS. Efectos de la edad sobre la morbimortalidad de la hemorragia intracerebral. Rev virtual Soc Parag Med Int. 2015;2(1):31–52.
15. Castaño-Castrillón JJ, Giraldo-Cardona JF, Meza-Botero LM, Muñoz-Henao J, Ramírez-Arias A, Rojas-Ceballos C, et al. Hallazgos electrocardiográficos en pacientes hipertensos del programa de vigilancia y control de la hipertensión arterial de ASSBASALUD ESE, Manizales, Colombia. Rev. Fac. Med. 2014;62(1):81–90.
16. Whelton PK, Carey RM, Aronow WS, Casey DE, Collins KJ, Dennison Himmelfarb C, et al. 2017 ACC/AHA/AAPA/ABC/ACPM/AGS/APhA/ASH/ASPC/NMA/PCNA Guideline for the prevention, detection, evaluation, and management of high blood pressure in adults: Executive summary: A Report of the American College of Cardiology/American Heart Association Task Force on Clinical Practice Guidelines. J Am Coll Cardiol. 2018;71(19):e127–e248.
17. Eghbali M, Khosravi A, Feizi A, Mansouri A, Mahaki B, Sarrafzadegan N. Prevalence, awareness, treatment, control, and risk factors of hypertension among adults: a cross-sectional study in Iran. Epidemiol Health. 2018; 40:e2018020.
18. Devi P, Rao M, Sigamani A, Faruqui A, Jose M, Gupta R, et al. Prevalence, risk factors and awareness of hypertension in India: a systematic review. J Hum Hypertens. 2013;27(5):281–7.
19. Supiyev A, Kossumov A, Utepova L, Nurgozhin T, Zhumadilov Z, Bobak M. Prevalence, awareness, treatment and control of arterial hypertension in Astana, Kazakhstan. A cross-sectional study. Public Health. 2015;129(7):948–53.
20. Cai L, Liu A, Zhang L, Li S, Wang P. Prevalence, awareness, treatment, and control of hypertension among adults in Beijing, China. Clin Exp Hypertens. 2012;34(1):45–52.
21. Sarfo FS, Mobula LM, Burnham G, Ansong D, Plange-Rhule J, Sarfo-Kantanka O, et al. Factors associated with uncontrolled blood pressure among Ghanaians: Evidence from a multicenter hospital-based study. PLoS One. 2018;13(3): e0193494.
22. Veliz-Rojas L, Mendoza-Parra S, Barriga OA. Adherencia terapéutica y control de los factores de riesgo cardiovasculares en usuarios de atención primaria. Enferm. univ. 2015; 12(1):3-11.



23. Romero S, Parra D, Sánchez J, Rojas L. Adherencia terapéutica de pacientes con hipertensión arterial y diabetes mellitus tipo 2 de Bucaramanga, Colombia. Rev Univ Ind Santander Salud. 2017;49(1):37–44.
24. Ogunsina K, Dibaba DT, Akinyemiju T. Association between life-course socio-economic status and prevalence of cardio-metabolic risk ractors in five middle-income countries. J Glob Health. 2018;8(2): 020405.
25. Alhawari HH, Al-Shelleh S, Alhawari HH, Al-Saudi A, Aljbour Al-Majali D, Al-Faris L, et al. Blood pressure and its association with gender, body mass index, smoking, and family history among niversity students. Int J Hypertens. 2018 :ID4186496.
26. Mora García G, Salguedo Madrid G, Ruíz Díaz M, Ramos Clason E, Alario Bello Á, Fortich Á, et al. Concordancia entre cinco definiciones de síndrome metabólico. Cartagena, Colombia. Rev Esp Salud Publica. 2012;86(3):301–11.
27. Hallberg P, Nagy J, Karawajczyk M, Nordang L, Islander G, Norling P, et al. Comparison of clinical factors between patients with angiotensin-converting enzyme inhibitor–induced angioedema and cough. Ann Pharmacother. 2017;51(4):293–300.
28. Gokhale M, Girman C, Chen Y, Pate V, Funk MJ, Stürmer T. Comparison of diagnostic evaluations for cough among initiators of angiotensin converting enzyme inhibitors and angiotensin receptor blockers. Pharmacoepidemiol Drug Saf. 2016;25(5):512–20.
29. Yang GH, Zhou X, Ji WJ, Liu JX, Sun J, Shi R, et al. Effects of a low salt diet on isolated systolic hypertension: A community-based population study. Medicine (Baltimore). 2018;97(14):e0342.
30. Kim D, Shim CY, Hong GR, Park S, Cho IJ, Chang HJ, et al. Impact of ambulatory blood pressure on early cardiac and renal dysfunction in hypertensive patients without clinically apparent target organ damage. Yonsei Med J. 2018;59(2):265–72.
31. Aid Kunert J. Adherencia al tratamiento antihipertensivo en pacientes ambulatorios de un hospital urbano. Rev virtual Soc Parag Med Int. 2015;2(2):43–51.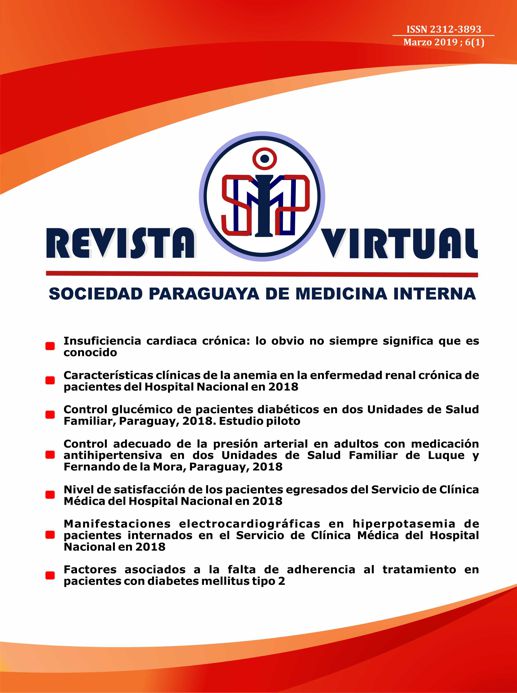 Sección
ARTICULOS ORIGINALES