Lactato como predictor de mortalidad en cirugía cardiovascular
Deisy Gabriela Cardozo Jiménez

Universidad Nacional de Asunción

Roberto Andrés Yubero Cazzola

Universidad Nacional de Asunción

Shuiji Okinaka Yokoyama

Universidad Nacional de Asunción
Palabras clave:
ácido láctico, cirugía torácica, mortalidad, tiempo de internación
Resumen
Introducción: el lactato es el producto final del metabolismo anaerobio y una valiosa herramienta
diagnóstica para la interpretación, estratificación y comprensión de diferentes procesos patológicos
del paciente críticamente enfermo.
Objetivo: determinar la asociación entre los niveles séricos de lactato y la mortalidad y estancia
hospitalaria en pacientes post operados de cirugía cardiovascular.
Metodología: estudio observacional retrospectivo con componentes analíticos. Se incluyeron
pacientes con patología cardiovascular, mayores de 18 años, de ambos sexos, internados en el
Hospital Nacional (Itauguá, Paraguay) entre los años 2016-2017. La variable independiente fue el
lactato y las dependientes el estado al alta y la estancia hospitalaria.
Resultados: se incluyeron a 31 pacientes, con edad media 54,5 años, 61,2% fue de sexo masculino,
74,2% presentó comorbilidades. Se constató 38,7% de complicaciones post quirúrgicas, 25,0% fue
taponamiento cardiaco, 25,0% sangrado. Se constató 9,6% de fallecimientos postquirúrgicos. No se
encontró asociación estadísticamente significativa entre los niveles elevados de lactato con la
estancia hospitalaria prolongada ni con los fallecimientos.
Conclusión: los niveles de lactato sérico postquirúrgico fueron elevados (93,6%). No se evidenció
asociación entre lactato sérico con la estancia hospitalaria ni con los fallecimientos.
Citas
1. Jansen TC, van Bommel J, Schoonderbeek FJ, Sleeswilk Visser SJ, van der Klooster JM, Lima AP, et al. Early lactate-guided therapy in intensive care unit patients. A multicenter, open-label, randomized controlled trial. Am J Respir Crit Care Med. 2010; 182(6):752-61.
2. Odom SR, Howell MD, Silva GS, Nielsen VM, Gupta A, Shapiro NI, Talmor D. Lactate clearance as a predictor of mortality in trauma patients. J Trauma Acute Care Surg. 2013; 74(4):999-1004.
3. De la Paz-Estrada C, Reyes-Rodríguez M, Barzaga-Hernández E. Lactato sérico en pacientes críticos postoperados de cirugía de abdomen. Rev. mex. anestesiol. 2005; 28(2):69-73.
4. González M, Morales CH, Sanabria Á. Aclaramiento de lactato como factor pronóstico en pacientes con traumatismo penetrante. Revisión sistemática de la literatura. Rev Colomb Cir. 2016; 31:34-43.
5. Téllez Benítez J. Valor del lactato sérico como factor pronóstico de mortalidad en pacientes con sepsis. Rev. Virtual Soc. Parag. Med. Int. 2017; Sep 4(2):11-8.
6. Dueñas C, Ortiz G, Mendoza R, Montes L. El papel del lactato en cuidado intensivo. Rev. chil. med. intensiva. 2016; 31(1):13-22.
7. Zhang Z, Xu X. Lactate clearance is a useful biomarker for the prediction of all-cause mortality in critically ill patients: A systematic review and meta-analisis. Crit Care Med. 2014; 42(9):2118-25.
8. Bermúdez-Rengifo WA, Fonseca-Ruiz NJ. Utilidad del lactato en el paciente críticamente enfermo. Acta Colomb Cuid Intensivo. 2016; 16(2):80-9.
9. Soliman HM, Vincent JL. Prognostic value of admission serum lactate concentrations in intensive care unit patients. Acta Clin Belg. 2010; 65(3):176-81.
10. Marty P, Roquilly A, Vallée F, Luzi A, Ferré F, Fourcade O, et al. Lactate clearance for death prediction in severe sepsis or septic shock patients during the first 24 hours in Intensive Care Unit: an observational study. Ann Intensive Care. 2013; 3(1):3.
11. Guyette F, Suffoletto B, Castillo JL, Quintero J, Callaway C, Puyana JC. Prehospital serum lactate as a predictor of outcomes in trauma patients: a retrospective observational study. J Trauma 2011; 70(4):782-6.
12. Metran Nascente AP, Assuncão M, Guedes CJ, Rezende Freitas FG, Franco Mazza B, Jackiu M, Ribeiro Machado F. Comparison of lactate values obtained from different sites and their clinical significance in patients with severe sepsis. Sao Paulo Med. J. 2011; 129(1):11-6.
13. Attana P, Lazzeri Ch, Picariello C, Sorini C, Gensini F, Valente S. Lactate and lactate clearance in acute cardiac care patients. Eur Heart J Acute Cardionnivasc Care. 2012; 1(2):115-21.
14. Henning RJ, Weil MH, Weiner F. Blood lactate as prognostic indicator of survival in patients with acute myocardial infarction. Circ Shock. 1982; 9(3):307-15.
15. Vermeulen RP, Hoekstra M, Nijsten MW, Van der Horst IC, van Pelt LJ, Jessurun GA, et al. Clinical correlates of arterial lactate levels in patients with ST-segment elevation myocardial infarction at admission: a descriptive study. Crit Care. 2010; 14(5): R164.
16. Rocha T, Mulle L, Nogueira A. Lactato sérico como marcador de morbimortalidade no pós-operatório de operacao de Jatene em lactentes. Rev Bras Cir Cardiovasc. 2010; 25(3):350-8.
17. Kohn E, Bouchacourt J, Hurtado J. Efecto de la circulación extracorpórea sobre la perfusión microvascular en pacientes sometidos a cirugía cardiaca: Resultados preliminares. Anest Analg Reanim. 2011; 24(1):4-12.
18. Rincón Salas JJ, Novoa Lago E, Sánchez E, Hortal Iglesias J. Manejo de las complicaciones postoperatorias de la cirugía cardiaca en cuidados intensivos. Rev Asoc Mex Med Crít y Ter Int. 2013; 27(3):172-8.
19. Donnino MW, Andersen LW, Giberson T, Gaieski DF, Abella BS, Peberdy MA, et al. Initial lactate and lactate change in post-cardiac arrest: A multicenter validation study. Crit Care Med. 2014; 42(8):1804-11.
20. Dueñas Castell C, Mendoza Franco R, Álvarez Gaviria M, Ortiz Ruiz G. Perfusión tisular en el paciente crítico. Acta Colomb Cuid Intensivo. 2012; 12(2):111-27.
21. Dong MF, Ma ZS, Wang JT, Chai SD, Tang PZ, Wang LX. Impact of peripherally established cardiopulmonary bypass on regional and systemic blood lactate levels. Heart Lung Circ. 2012 ; 21(3):154-8.
22. Jones AE, Brown MD, Trzeciak S, Shapiro NI, Garrett JS, Heffner AC, et al. The effect of a quantitative resuscitation strategy on mortality in patients with sepsis: a meta-analysis. Crit Care Med. 2008; 36(10): 2734-9.
23. Levi B. Lactate and shock state: the metabolic view. Curr Opin Crit Care. 2006; 12(4):315-21.
24. Smith I, Kumar P, Molloy S, Rhodes A, Newman P, Grounds RM, Bennett ED. Base excess and lactate as prognostic indicators for patients admitted to intensive care. Intensive Care Med. 2001; 27(1):74-83.
25. Hajjar LA, Almeida JP, Fukushima JT, Rhodes A, Vincent JL, Osawa EA, Galas FR. High lactate levels are predictors of major complications after cardiac surgery. J Thorac Cardiovasc Surg. 2013;146(2): 455-60.
26. Lindsay AJ, Xu M, Sessler DI, Blackstone EH, Bashour CA. Lactate clearance time and concentration linked to morbidity and death in cardiac surgical patients. Ann Thorac Surg. 2013 Feb; 95(2):486-92.
27. Couto-Mallón D, González-Vílchez F, Almenar-Bonet L, Díaz-Molina B, Segovia-Cubero J, González-Costello J, et al. Prognostic value of serum lactate levels in patients undergoing urgent heart transplant: A subanalysis of the ASIS-TC spanish multicenter study. Rev Esp Cardiol (Engl Ed). 2019 Mar; 72(3):208-214.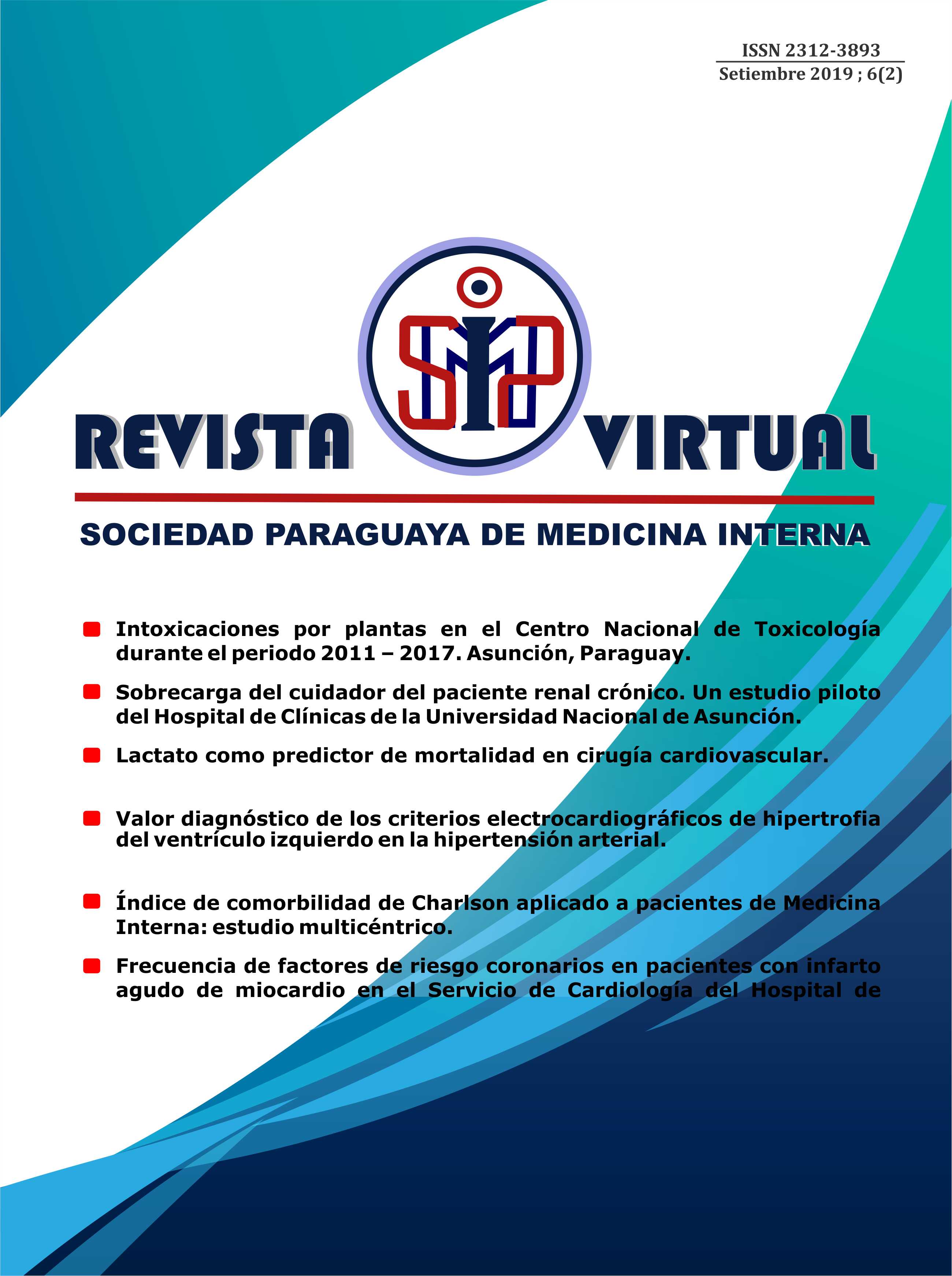 Sección
ARTICULOS ORIGINALES