Medicina defensiva en Servicios de Urgencias del Hospital Central del Instituto de Previsión Social
Marco Antonio Franco Britos

Hospital Central del Instituto De Previsión Social

Amado Denis

Hospital Central del Instituto De Previsión Social

Zoilo Morel Ayala

Hospital Central del Instituto De Previsión Social

María Del Carmen Solalinde

Abogado defensor penal

Marta Ferreira Gaona

Universidad Católica "Nuestra Señora de la Asunción"

Clarisse Díaz Reissner

Universidad Católica "Nuestra Señora de la Asunción"
Palabras clave:
medicina defensiva, mala praxis, responsabilidad legal, servicio de urgencia en hospital
Resumen
Objetivo: determinar el grado de medicina defensiva que se practica en los Servicios de Urgencias del Hospital Central del Instituto de Previsión Social, Asunción-Paraguay.
Métodos: se administró un cuestionario de autoevaluación de tipo Likert validado, a los médicos de atención de emergencia; se exploraron variables relacionadas al sexo, edad, especialización, años de práctica, antecedentes legales previos y turnos de trabajo.
Resultados: se evaluó a 220 médicos de 8 Servicios de Urgencias, el 82% practicaba medicina defensiva. Los médicos varones mostraron un comportamiento más defensivo (p=0,1). Emergentología, Traumatología y Ortopedia fueron las especialidades con mayor práctica de medicina defensiva (100%). Ginecología y Obstetricia tuvo el mayor número de demandas.
Conclusión: la medicina defensiva se presenta en un alto porcentaje en los Servicios de Urgencias pues 82% de los médicos practican algún grado de la misma, siendo mayor en varones y en las especialidades Emergentología y Traumatología y Ortopedia
Citas
1. U.S. Congress, Office of Technology Assessment. Defensive Medicine and Medical Malpractice. OTA-H--6O2 (Washington, DC: U.S. Government Printing Office) [Internet]. July 1994 [citado 14 de diciembre de 2016].Disponible en: http://biotech.law.lsu.edu/policy/9405.pdf
2. González JMO, Rodriguez JMM, López FHL. Medicina defensiva, su impacto en las instituciones de salud. Rev CONAMED. 2009;14(1):4-10.
3. Summerton N. Positive and negative factors in defensive medicine: a questionnaire study of general practitioners. BMJ. 7 de enero de 1995;310(6971):27-9.
4. Studdert DM, Mello MM, Sage WM, DesRoches CM, Peugh J, Zapert K, et al. Defensive medicine among high-risk specialist physicians in a volatile malpractice environment. JAMA. 1 de junio de 2005;293(21):2609-17.
5. Sánchez-González JM, Tena-Tamayo C, Campos-Castolo EM, Hernández-Gamboa LE, Rivera-Cisneros AE. Medicina defensiva en México: una encuesta exploratoria para su caracterización. Cir Ciruj 2005;3:199-206
6. Ransom SB, Dombrowski MP, Shephard R, Leonardi M. The economic cost of the medical-legal tort system. Am J Obstet Gynecol. junio de 1996;174(6):1903-1907; discussion 1907-09.
7. Mello MM, Chandra A, Gawande AA, Studdert DM. National Costs Of The Medical Liability System. Health Aff Proj Hope. septiembre de 2010;29(9):1569-77.
8. Schwartz SK. Defensive medicine versus value-based care. Med Econ [Internet]. 2016 Mar 25 [citado 15 de diciembre de 2016];93(6):17-8, 20-2. Disponible en: http://www.ncpa.org/media/defensive-medicine-versus-value-based-care
9. Nahed BV, Babu MA, Smith TR, Heary RF. Malpractice Liability and Defensive Medicine: A National Survey of Neurosurgeons. PLoS ONE [Internet]. 22 de junio de 2012 [citado 19 de agosto de 2015];7(6):e39237. Disponible en: http://www.ncbi.nlm.nih.gov/pmc/articles/PMC3382203/
10. Brown TW, McCarthy ML, Kelen GD, Levy F. An Epidemiologic Study of Closed Emergency Department Malpractice Claims in a National Database of Physician Malpractice Insurers. Acad Emerg Med. 1 de mayo de 2010;17(5):553-60.
11. Sekhar MS, Vyas N. Defensive Medicine: A Bane to Healthcare. Ann Med Health Sci Res. 2013;3(2):295-6.
12. Ortashi O, Virdee J, Hassan R, Mutrynowski T, Abu-Zidan F. The practice of defensive medicine among hospital doctors in the United Kingdom. BMC Med Ethics. 2013;14(1):42.
13. Robles-Elías FJ, Peña-Nina D, Robles-Morales R, Díaz-Barriga E. ¿Despenalizar los actos médicos? Una primera aproximación a partir de una perspectiva dual: Medicina y Derecho. (Spanish). Decriminalize Med Proced First Approach Dual Perspect Med Law Engl. diciembre de 2014;82(12):828-38.
14. Pellisé F, Sell P, Force EPLT. Patient information and education with modern media: the Spine Society of Europe Patient Line. Eur Spine J. 1 de agosto de 2009;18(3):395-401.
15. Garcia-Retamero R, Galesic M. On defensive decision making: how doctors make decisions for their patients. Health Expect. 1 de octubre de 2014;17(5):664-9.
16. Kessler D, McClellan M. Do Doctors Practice Defensive Medicine? Q J Econ. 5 de enero de 1996;111(2):353-90.
17. Shokrollahi K. Request for Treatment: the evolution of consent. Ann R Coll Surg Engl. marzo de 2010;92(2):93-100.
18. Rodríguez Almada H. De la medicina defensiva a la medicina asertiva. Rev Médica Urug. septiembre de 2006;22(3):167-8.
19. Tamayo CT, González JMS. Medicina asertiva: una propuesta contra la medicina defensiva. Ginecol Obstet Méx. 2005;73:553–9.
20. Eastaugh SR. Reducing litigation costs through better patient communication. Physician Exec. 5 de junio de 2004;30(3):36-8.
21. Vázquez López JE. La" Lex Artis ad hoc" como criterio valorativo para calibrar la diligencia exigible en todo acto o tratamiento médico: A propósito de un caso basado en la elección de la técnica empleada en el parto (parto vaginal vs. cesárea). Cuad Med Forense. 2010;16(3):179–182.
22. Toraldo DM, Vergari U, Toraldo M. Medical malpractice, defensive medicine and role of the "media" in Italy. Multidiscip Respir Med [Internet]. 26 de marzo de 2015 [citado 12 de agosto de 2015];10(1). Disponible en: http://www.ncbi.nlm.nih.gov/pmc/articles/PMC4457994/
23. Osti M, Steyrer J. A national survey of defensive medicine among orthopaedic surgeons, trauma surgeons and radiologists in Austria: evaluation of prevalence and context. J Eval Clin Pract. 1 de abril de 2015;21(2):278-84.
24. Ali AA, Hummeida ME, Elhassan YAM, M.Nabag WO, Ahmed MAA, Adam GK. Concept of defensive medicine and litigation among Sudanese doctors working in obstetrics and gynecology. BMC Med Ethics [Internet]. 9 de febrero de 2016 [citado 31 de marzo de 2016];17. Disponible en: http://www.ncbi.nlm.nih.gov/pmc/articles/PMC4748468/
25. Frakes M. Defensive Medicine and Obstetric Practices. J Empir Leg Stud. septiembre de 2012;9(3):457-81.
26. Minossi JG, Silva AL da. Medicina defensiva: uma prática necessária? Rev Colégio Bras Cir. diciembre de 2013;40(6):494-501.
27. Jakobs, Gunther. Derecho Penal. Parte general. Fundamentos y teoría de la imputación. Madrid, Marcil Pons;1997:744.
28. Argnani PI. Responsabilidad penal del médico. Bs As, Ed Astrea;2013:77-87
29. Brateanu A, Schramm S, Hu B, Boyer K, Nottingham K, Taksler GB, et al. Quantifying the defensive medicine contribution to primary care costs. J Med Econ. 1 de noviembre de 2014;17(11):810-6.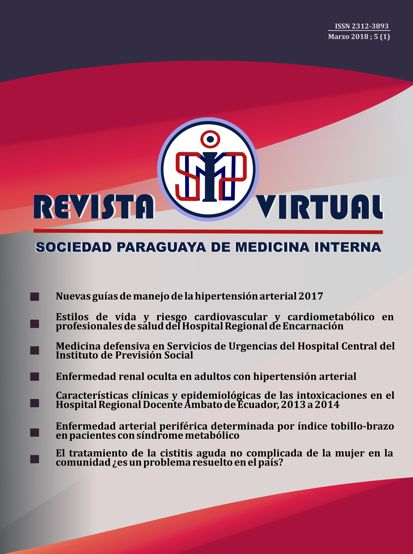 Sección
ARTICULOS ORIGINALES