Enfermedad renal oculta en adultos con hipertensión arterial
Verónica Benítez González

Universidad Nacional de Itapúa
Palabras clave:
hipertensión, proteinuria, prevalencia, creatinina, presión arterial, factores de riesgo
Resumen
Introducción: la enfermedad renal oculta es una entidad que define los estadios más iniciales de insuficiencia renal y no se detecta con los métodos usados habitualmente (creatinina sérica).
Metodología: estudio observacional descriptivo prospectivo realizado en adultos con hipertensión arterial que acudieron al Hospital Nacional (Itauguá, Paraguay) en 2017. Además de las mediones antropométricas, se les determinó la proteinuria de 24 hs y el clearance de creatinina medida por la fórmula Cockcroft-Gault.
Resultados: se incluyeron 90 pacientes, con edad media 50 años, del sexo femenino en 51%. Se detectó 8% de enfermedad renal oculta con la fórmula Cockcroft-Gault y 21% con la proteinuria de 24 hs.
Conclusión: 8% de los pacientes hipertensos controlados y no controlados están infradiagnosticados en cuanto a disfunción renal moderada se refiere teniendo en cuenta la fórmula Cockcroft-Gault y 21% según proteinuria de 24 hs.
Citas
1. Ortellado Maidana J, Ramírez A, González G, Olmedo Filizzola G, Ayala de Doll M, Sano M, et al. Consenso paraguayo de hipertensión arterial 2015. Rev Virtual Soc Parag Med Int. 2016 Sep; 3(2): 11-57.
2. Whelton PK, Carey RM, Aronow WS, Casey DE Jr, Collins KJ, Dennison Himmelfarb C, et al. 2017 ACC/AHA/AAPA/ABC/ACPM/AGS/APhA/ASH/ASPC/NMA/PCNA Guideline for the Prevention, Detection, Evaluation, and Management of High Blood Pressure in Adults: A Report of the American College of Cardiology/American Heart Association Task Force on Clinical Practice Guidelines. J Am Coll Cardiol. 2017 Nov 7. pii: S0735-1097(17)41519-1.
3. Mulè G, Castiglia A, Cusumano C, Scaduto E, Geraci G, Altieri D, et al. Subclinical kidney damage in hypertensive patients: A renal window opened on the cardiovascular system. Focus on microalbuminuria. Adv Exp Med Biol. 2017; 956:279-306.
4. Betriu À, Farràs C, Abajo M, Martinez-Alonso M, Arroyo D, Barbé F, et al. Randomised intervention study to assess the prevalence of subclinical vascular disease and hidden kidney disease and its impact on morbidity and mortality: The ILERVAS project. Nefrologia. 2016 Jul-Aug; 36(4):389-96.
5. da Silva LS, Cotta RMM, Moreira TR, da Silva RG, Rosa COB, Machado JC, da Silva LS, Bastos MAP. Hidden prevalence of chronic kidney disease in hypertensive patients: the strategic role of primary health care. Public Health. 2016 Nov; 140:250-7.
6. Fernandez-Prado R, Castillo-Rodriguez E, Velez-Arribas FJ, Gracia-Iguacel C, Ortiz A. Creatinine clearance is not equal to glomerular filtration rate and Cockcroft-Gault equation is not equal to CKD-EPI collaboration equation. Am J Med. 2016 Dec;129(12):1259-63.
7. Levey AS, Inker LA, Coresh J. GFR estimation: from physiology to public health. Am J Kidney Dis. 2014 May; 63(5):820-34.
8. Ruiz S, Minville V, Asehnoune K, Virtos M, Georges B, Fourcade O, Conil JM. Screening of patients with augmented renal clearance in ICU: taking into account the CKD-EPI equation, the age, and the cause of admission. Ann Intensive Care. 2015 Dec; 5(1):49.
9. Inker LA, Schmid CH, Tighiouart H, Eckfeldt JH, Feldman HI, Greene T, et al. Estimating glomerular filtration rate from serum creatinine and cystatin C. N Engl J Med. 2012 Jul 5;367(1):20-9.
10. Gómez Camuñas MJ, Fernández Sanz L. Insuficiencia renal oculta: frecuencia y significado en pacientes sometidos a cateterismo cardiaco. Enferm Cardiol. 2009; 16(47-48):80-1.
11. Hernández Rodríguez A, Rodríguez Constantín A, Rodríguez Beyris R. Enfermedad renal oculta en pacientes con diabetes mellitus. MEDISAN. 2011; 15(3):293-9.
12. Rodríguez-Poncelas A, Quesada Sabate M, Coll De Tuero G, Caula Ros J, Gelada-Batlle E, Gómez-Marcos MA, et al. Prevalence of occult chronic kidney disease and associated variables in a population of patients with type 2 diabetes. Med Clin (Barc). 2010 Mar 6; 134(6):239-45.
13. Pérez-Durillo FT, Villarejo-Villar AB, Pérez-Durillo J, Ribes-Bautista AI, Macías-Ortiz de Galisteo C. Occult kidney disease determined using glomerular filtration rate equations in primary care. Nefrologia. 2014; 34(5):676-8.
14. Duncan L, Heathcote J, Djurdjev O, Levin A. Screening for renal disease using serum creatinine: who are we missing?. Nephrol Dial Transplant. 2001 May;16(5):1042-6.
15. García Salinas HA, Barreto RS, Gavilán Herreros JA, Insfrán Echauri EM, Sisa Ferreira CG, Francisco Cruz Segovia FV. Detección de enfermedad renal crónica oculta en personas del Bañado Sur de Asunción. Rev Virtual Soc Parag Med Int. marzo 2015; 2(1): 23-31.
16. Umesawa M, Sairenchi T, Haruyama Y, Nagao M, Yamagishi K, Irie F, et al. Validity of a risk prediction equation for CKD after 10 years of follow-up in a japanese population: The ibaraki prefectural health study. Am J Kidney Dis. 2017 Nov 30. pii: S0272-6386(17)31006-5.
17. Almirall J, Vaqueiro M, Antón E, Baré ML, González V, Jaimez E, et al. Prevalence of chronic kidney disease in community-dwelling elderly and associated cardiovascular risk factors. Nefrologia. 2005; 25(6):655-62.
18. Kovesdy CP, Furth SL, Zoccali C. Obesity and kidney disease: Hidden consequences of the epidemic. Afr J Prim Health Care Fam Med. 2017 Oct 26; 9(1):e1-e3.
19. Teo SH, Endre ZH. Biomarkers in acute kidney injury (AKI). Best Pract Res Clin Anaesthesiol. 2017 Sep; 31(3):331-44.
20. Carrillo-Larco RM, Miranda JJ, Gilman RH, Medina-Lezama J, Chirinos-Pacheco JA, Muñoz-Retamozo PV, et al. Risk score for first-screening of prevalent undiagnosed chronic kidney disease in Peru: the CRONICAS-CKD risk score. BMC Nephrol. 2017 Nov 29; 18(1):343.
21. Bang H, Vupputuri S, Shoham DA, Klemmer PJ, Falk RJ, Mazumdar M, et al. SCreening for Occult REnal Disease (SCORED): a simple prediction model for chronic kidney disease. Arch Intern Med. 2007 Feb 26; 167(4):374-81.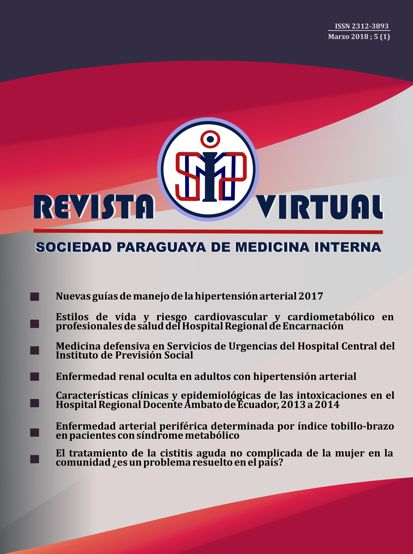 Sección
ARTICULOS ORIGINALES