Colitis pseudomembranosa por Clostridium difficile
Gladys Alexis Pineda

Universidad Nacional de Itapúa

Marta Sanguina

Hospital Nacional, Itauguá

Paola Elizabeth Benítez

Universidad Nacional de Itapúa
Palabras clave:
Clostridium difficile, enterocolitis seudomembranosa, diarrea, dolor abdominal
Resumen
Se presenta caso de mujer de 22 años que presenta una celulitis en la región del muslo lado derecho por lo que recibe antibióticos por vía oral en un principio con amoxicilina y luego por vía parenteral con quinolona más clindamicina y consulta a nuestro Servicio por diarrea y dolor abdominal. La rectosigmoidoscopía detecta colitis pseudomembranosa. Las toxinas por C. difficile resultaron positivas en heces. Se inició tratamiento antibiótico específico con lo que el cuadro diarreico cesó.
Citas
Goudarzi M, Seyedjavadi SS, Goudarzi H, Mehdizadeh Aghdam E, Nazeri S. Clostridium difficile infection: Epidemiology, pathogenesis, risk factors, and therapeutic options. Scientifica (Cairo). 2014; 2014: 916826.
Mulherin DW, Hutchison AM, Thomas GJ, Hansen RA, Childress DT. Concordance of the SHEA/IDSA severity classification for clostridium difficile infection and the ATLAS bedside scoring system in hospitalized adult patients. Infection. 2014; 42(6): 999- 1005.
Scaria J, Chen JW, Useh N, He H, McDonough SP, Mao C, Sobral B, Chang YF. Comparative nutritional and chemical phenome of clostridium difficile isolates determined using phenotype microarrays. Int J Infect Dis. 2014; 27:20-5.
Planche T, Aghaizu A, Holliman R, Riley P, Poloniecki J, Breathnach A, Krishna S. Diagnosis of clostridium difficile infection by toxin detection kits: a systematic review. Lancet Infect Dis. 2008; 8(12): 777-84.
Drudy D, Fanning S, Kyne L. Toxin A-negative, toxin B-positive clostridium difficile. Int J Infect Dis 2007; 11(1): 5-10.
Barlett JG. Recent developments in testing and the changing epidemiology of Clostridium difficile infection. Infectious Disease Especial edition. 2010; 13:72-7.
Lister M, Stevenson E, Heeg D, Minton NP, Kuehne SA. Comparison of culture based methods for the isolation of clostridium difficile from stool samples in a research setting. Anaerobe. 2014; 28: 226-9.
Cohen SH, Gerding DN, Johnson S, Kelly CP, Loo VG, McDonald LC, Pepin J, Wilcox MH. Clinical practice guidelines for clostridium difficile infection in adults: 2010 update by the Society for Healthcare Epidemiology of America (SHEA) and the Infectious Diseases Society of America (IDSA). Infect Control Hosp Epidemiol. 2010; 31(5): 431-55.
Lo Vecchio A, Zacur GM. Clostridium difficile infection: an update on epidemiology, risk factors, and therapeutic options. Curr Opin Gastroenterol. 2012; 28(1):1-9.
Nelson RL, Kelsey P, Leeman H, Meardon N, Patel H, Paul K, et al. Antibiotic treatment for clostridium difficile-associated diarrhea in adults. Cochrane Database Syst Rev. 2011; Sept 7(9):CD004610.
Pacheco SM, Johnson S. Important clinical advances in the understanding of clostridium difficile infection. Curr Opin Gastroenterol. 2013; 29(1):42–8.
Louie TJ, Miller MA, Mullane KM, Weiss K, Lentnek A, Golan Y, et al. Fidaxomicin versus Vancomycin for clostridium difficile infection. N Engl J Med. 2011; 364(5): 422-31.
Cornely OA, Nathwani D, Ivanescu C, Odufowora-Sita O, Retsa P, Odeyemi IA. Clinical efficacy of fidaxomicin compared with vancomycin and metronidazole in clostridium difficile infections: a meta-analysis and indirect treatment comparison. J Antimicrob Chemother. 2014; 69(11):2892-900.
Nathwani D, Cornely OA, Van Engen AK, Odufowora-Sita O, Retsa P, Odeyemi IA. Cost-effectiveness analysis of fidaxomicin versus vancomycin in clostridium difficile infection. J Antimicrob Chemother. 2014; 69(11):2901-12.
Debast SB, Bauer MP, Kuijper EJ. European Society of Clinical Microbiology and Infectious Diseases: Update of the treatment guidance document for clostridium difficile infection. Clin Microbiol Infect. 2014; 20(Suppl 2):1-26.
Kelly BJ, Tebas P. Clinical Practice and Infrastructure Review of Fecal Microbiota Transplantation for Clostridium difficile Infection. Chest. 2018 Jan;153(1):266-277.
Burke KE, Lamont JT. Clostridium difficile infection: a worldwide disease. Gut Liver. 2014 Jan;8(1):1-6.
Rineh A, Kelso MJ, Vatansever F, Tegos GP, Hamblin MR. Clostridium difficile infection: molecular pathogenesis and novel therapeutics. Expert Rev Anti Infect Ther. 2014 Jan;12(1):131-50.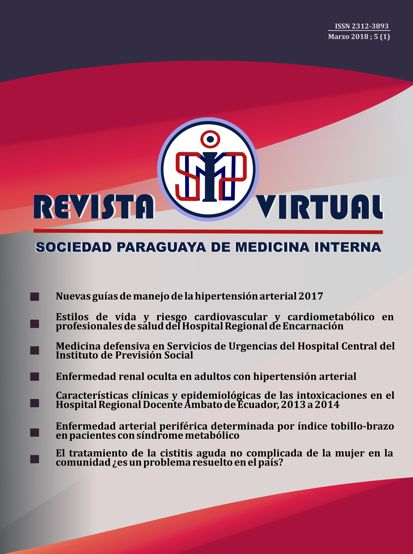 Sección
REPORTES DE CASOS