Neurofobia en estudiantes de postgrado en Medicina Interna
David Morínigo

Hospital de Clínicas

Derlis Fleitas

Jacobi Medical Center. NYC Health.

Maida Morel Pirelli

Hospital de Clínicas

Genaro Velazquez

Universidad Nacional de Asunción
Palabras clave:
neurofobia, internado y residencia, Medicina Interna, manifestaciones neurológicas
Resumen
Introducción: la neurofobia es la percepción hacia la neurología como difícil y desagradable.
Objetivos: determinar la frecuencia de neurofobia en estudiantes de postgrado de Medicina Interna del Hospital de Clínicas, Hospital Nacional de Itauguá, Hospital Militar Central e Instituto de Previsión Social.
Materiales y métodos: diseño observacional y descriptivo de corte transversal. La herramienta utilizada fue un cuestionario diseñado para identificar la afinidad o aversión hacia las diferentes subespecialidades que componen la medicina interna y posteriormente, re interrogar sobre las eventuales causas subjetivas de la misma.
Resultados: se incluyeron 56 estudiantes. Se encontró que 54% presenta neurofobia, 63,3% identificó la falta de conocimientos en neurología básica como la causa más importante, seguido por 50% que refiere la complejidad propia de la anamnesis y examen físico asociado a las patologías neurológicas.
Conclusiones: más de la mitad de los estudiantes de postgrado de Medicina Interna presenta neurofobia, lo cual es alarmante debido a que una tercera parte de la patología humana es de orden neurológico y por tanto será parte de su ejercicio médico diario.
Citas
Gelb DJ, Gunderson CH. The neurology clerkship core curriculum. Neurology. 2002;58:849–52.
Matthias AT, Nagasingha P, Ranasinghe P, Gunatilake SB. Neurophobia among medical students and non-specialist doctors in Sri Lanka. BMC Med Educ. 2013;13:164.
Ante alta demanda, el país necesita más gastroenterólogos y neurólogos. Diario Última Hora [Internet]. 4 Mar 2014 [citado 22 Jul 2017]; País:[2 p.]. Available from: http://www.ultimahora.com/ante-alta-demanda-el-pais-necesita-mas-gastroenterologos-y-neurologos-n772010.htm
Jozefowicz RF. Neurophobia: The Fear of Neurology Among Medical Students. Arch Neurol. 1994;51(4):328-329.
Prithishkumar IJ, Holla SJ. Early clinical exposure as a teaching learning tool to teach neuroanatomy for first year occupational and physical therapy students – our preliminary experience. Indian Journal of Physiotherapy and Occupational Therapy - An International Journal. 2012;6(2):59-62.
Fiestas F, Gallo C, Poletti G, Bustamante I, Alarcón RD, Mari JJ, et al. Improving mental and neurological health research in Latin America: a qualitative study. BMC Public Health. 2009;9:334.
Sanya EO, Ayodele OE, Olanrewaju TO. Interest in neurology during medical clerkship in three Nigerian medical schools. BMC Med Educ. 2010;10:36.
McCarron M. A systematic review of neurophobia and perceived causes among medical students and junior doctors. J Neurol Neurosurg Psychiatry. 3 de enero de 2012;83(3):e1-e1
Gupta NB, Khadilkar SV, Bangar SS, Patil TR, Chaudhari CR. Neurology as career option among postgraduate medical students. Ann Indian Acad Neurol. octubre de 2013;16(4):478-82.
Agarwal N, Norrmén-Smith IO, Tomei KL, Prestigiacomo CJ, Gandhi CD. Improving medical student recruitment into neurological surgery: a single institution's experience. World Neurosurg. diciembre de 2013;80(6):745-50.
Youssef FF. Neurophobia and its implications: evidence from a Caribbean medical school. BMC Med Educ. 2009;9:39.
Moreno D, Santibañez R, Neurofobia entre los estudiantes de la Carrera de Medicina de sexto a décimo semestre en la Universidad Católica Santiago de Guayaquil. Rev. Ecuat. Neurol. Vol. 22, No 1-3, 2013.
Buonanotte MC, Riveros M, Villate S, Beltramini C, Buonanotte CF. Neurofobia o analfabetismo neurológico. Neurol arg. 2016;8(1):3–7
Bermejo Pareja F, Hernández Gallego J. ¿Qué conocimientos neurológicos debería adquirir un estudiante de Medicina? Revisión. Rev Neurol. 2007;44:360–5.
Olesen J, Leonardi M. The burden of brain diseases in Europe. Eur J Neurol. 2003;10:471–7.
Bessolo E, Femopase L, ¿Neurofobia en el posgrado? Análisis de interconsultas neurológicas realizadas por médicos en formación en el ámbito de la urgencia. Neurol arg. 2015;7(4):213–217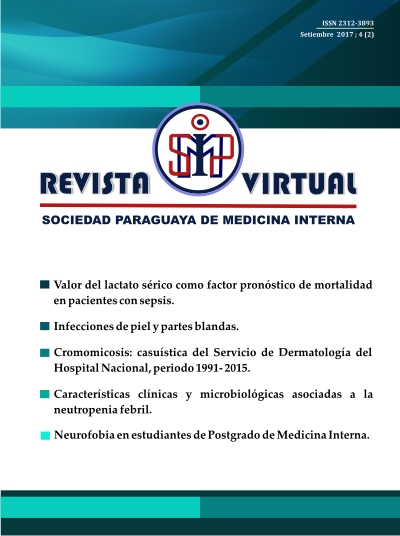 Sección
ARTICULOS ORIGINALES