Cateterización de la vena yugular interna guiada por ecografía: estudio comparativo con la técnica convencional por reparos anatómicos
Diego Daniel Acosta Cabrera

Universidad Nacional de Asunción
Palabras clave:
acceso venoso central, ecografía, complicaciones, vena yugular interna.
Resumen
Introducción: los catéteres venosos centrales son sondas intravasculares que se insertan en los grandes vasos venosos del tórax y abdomen. La técnica comúnmente realizada es la guiada por reparos anatómicos basada en la presunción de la ubicación de los vasos del cuello al identificar estructuras anatómicas externas. El uso de la ultrasonografía ha sido promovido como un método para reducir el riesgo de complicaciones durante la cateterización venosa central.
Objetivos: comparar la eficacia de la técnica de inserción de catéteres venosos yugulares internos guiado por ecografía con la realizada por reparos anatómicos.
Metodología: estudio experimental realizado en varones y mujeres, mayores de 18 años, en quienes estaba indicada la colocación de acceso venoso central yugular interno en forma programada, internados en las Cátedras de Clínica Médica, Unidad de Cuidados Intermedios y Unidad de Cuidados Intensivos del Hospital de Clínicas y en la Unidad de Cuidados Intensivos del Sanatorio Británico (Asunción). En cada caso fueron medidas las siguientes variables: tasa de éxito de colocación, número de intentos, tiempo de realización y complicaciones (hematomas, punción arterial y neumotórax).
Resultados: 149 pacientes fueron considerados en este estudio, realizándose 90 vías venosas yugulares con guía ecográfica y 59 por la técnica habitual por reparos anatómicos. El tiempo de realización y el número de punciones en el grupo con guía ecográfica fue menor (p<0,001). No hubo diferencias estadísticamente significativas en éxito del procedimiento entre ambos grupos pero el realizado con guía ecográfica tuvo menor proporción de complicaciones: hematomas (p<0,01) y punción arterial (p 0,01). No se registró neumotórax en ninguno de los dos grupos.   
Conclusiones: la colocación de vía venosa central bajo guía ecográfica es superior sobre la técnica por reparos anatómicos considerando la menor proporción de complicaciones, la reducción en el número de intentos y menor tiempo de realización. Aunque el éxito del procedimiento sea similar, las implicancias para llegar a dicho objetivo bajo la técnica a ciegas se traducen en un incremento directo en las otras variables ya citadas en detrimento del paciente. Por lo tanto, siempre que esté disponible tanto el equipamiento necesario como el operador capacitado ésta será la técnica de elección.
Citas
Hermosura B, Vanags L, Dickey MW. Measurement of pressure during intravenous therapy. JAMA 1966;195(4):321
Daily PO, Griepp RB, Shumway NE. Percutaneous internal jugular vein cannulation. Arch Surg. 1970 Oct;101(4):534-6.
Civetta JM, Gabel JC, Gemer M. Internal-jugular-vein puncture with a margin of safety. Anesthesiology. 1972 Jun;36(6):622-3.
Vaughan RW, Weygandt GR. Reliable percutaneous central venous pressure measurement. Anesth Analg. 1973 Sep-Oct;52(5):709-16.
Lalu MM, Fayad A, Ahmed O, Bryson GL, Fergusson DA, Barron CC, Sullivan P, Thompson C; Canadian Perioperative Anesthesia Clinical Trials Group. Ultrasound-Guided Subclavian Vein Catheterization: A Systematic Review and Meta-Analysis. Crit Care Med. 2015 Jul;43(7):1498-507.
Byon HJ, Lee GW, Lee JH, Park YH, Kim HS, Kim CS, Kim JT. Comparison between ultrasound-guided supraclavicular and infraclavicular approaches for subclavian venous catheterization in children--a randomized trial. Br J Anaesth. 2013 Nov;111(5):788-92.
Hind D, Calvert N, McWilliams R, Davidson A, Paisley S, Beverley C, Thomas S. Ultrasonic locating devices for central venous cannulation: meta-analysis. BMJ. 2003 Aug 16;327(7411):361.
Rabindranath KS, Kumar E, Shail R, Vaux E. Use of real-time ultrasound guidance for the placement of hemodialysis catheters: a systematic review and meta-analysis of randomized controlled trials. Am J Kidney Dis. 2011 Dec;58(6):964-70.
Beheshti MV. A concise history of central venous access. Tech Vasc Interv Radiol. 2011 Dec;14(4):184-5.
Casanova Vivas S. Recommendations from CDC for the prevention of catheter-related infections (2013 update). Rev Enferm. 2014 Apr;37(4):28-33.
McGee DC, Gould MK. Preventing complications of central venous catheterization. N Engl J Med. 2003 Mar 20;348(12):1123-33.
Eisen LA, Narasimhan M, Berger JS, Mayo PH, Rosen MJ, Schneider RF. Mechanical complications of central venous catheters. J Intensive Care Med. 2006 Jan-Feb;21(1):40-6.
Lorente L. Antimicrobial-impregnated catheters for the prevention of catheter-related bloodstream infections. World J Crit Care Med. 2016 May 4;5(2):137-42.
Matsushima H, Adachi T, Iwata T, Hamada T, Moriuchi H, Yamashita M, Kitajima T, Okubo H, Eguchi S. Analysis of the Outcomes in Central Venous Access Port Implantation Performed by Residents via the Internal Jugular Vein and Subclavian Vein. J Surg Educ. 2016 Dec 5. pii: S1931-7204(16)30299-9.
Karakitsos D, Labropoulos N, De Groot E, Patrianakos AP, Kouraklis G, Poularas J, Samonis G, Tsoutsos DA, Konstadoulakis MM, Karabinis A. Real-time ultrasound-guided catheterisation of the internal jugular vein: a prospective comparison with the landmark technique in critical care patients. Crit Care. 2006;10(6):R162.
Napolitano M, Malato A, Raffaele F, Palazzolo M, Lo Iacono G, Pinna R, Geraci G, Modica G, Saccullo G, Siragusa S, Cajozzo M. Ultrasonography-guided central venous catheterisation in haematological patients with severe thrombocytopenia. Blood Transfus. 2013 Oct;11(4):506-9.
Karimi-Sari H, Faraji M, Mohazzab Torabi S, Asjodi G. Success rate and complications of internal jugular vein catheterization with and without ultrasonography guide. Nurs Midwifery Stud. 2014 Dec;3(4):e23204.
Turker G, Kaya FN, Gurbet A, Aksu H, Erdogan C, Atlas A. Internal jugular vein cannulation: an ultrasound-guided technique versus a landmark-guided technique. Clinics (Sao Paulo). 2009;64(10):989-92.
Rando K, Castelli J, Pratt JP, Scavino M, Rey G, Rocca ME, Zunini G. Ultrasound-guided internal jugular vein catheterization: a randomized controlled trial. Heart Lung Vessel. 2014;6(1):13-23.
Eisen LA, Narasimhan M, Berger JS, Mayo PH, Rosen MJ, Schneider RF. Mechanical complications of central venous catheters. J Intensive Care Med. 2006 Jan-Feb;21(1):40-6.
Sznajder JI, Zveibil FR, Bitterman H, Weiner P, Bursztein S. Central vein catheterization. Failure and complication rates by three percutaneous approaches. Arch Intern Med. 1986 Feb;146(2):259-61.
Treglia A, Musone D, Amoroso F. Retrospective comparison of two different approaches for ultrasound-guided internal jugular vein cannulation in hemodialysis patients. J Vasc Access. 2016 Dec 2:0.
Palepu GB, Deven J, Subrahmanyam M, Mohan S. Impact of ultrasonography on central venous catheter insertion in intensive care. Indian J Radiol Imaging. 2009 Jul-Sep;19(3):191-8.
Gordon AC, Saliken JC, Johns D, Owen R, Gray RR. US-guided puncture of the internal jugular vein: complications and anatomic considerations. J Vasc Interv Radiol. 1998 Mar-Apr;9(2):333-8.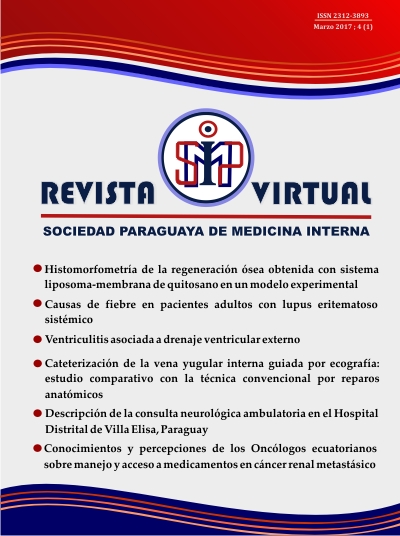 Sección
ARTICULOS ORIGINALES