Absceso vertebral subdural a Staphylococcus aureus
Fátima Ovando

Hospital de Clínicas

David Morínigo

Hospital de Clínicas

Francisco Vicente Santa Cruz Segovia

Hospital de Clínicas
Palabras clave:
absceso subdural, Staphylococcus aureus, resonancia magnética nuclear
Resumen
Los abscesos vertebrales y paravertebrales constituyen una urgencia médica neuroquirúrgica, siendo  el absceso espinal subdural una forma rara de presentación. La etiología más frecuente es Staphylococcus  aureus. La manifestación clínica habitual es   un compromiso medular y fiebre. El diagnóstico se confirma con la resonancia magnética nuclear con gadolinio. Presentamos un paciente previamente sano que consulta con un cuadro agudo de compromiso medular  y fiebre en quien la resonancia magnética nuclear evidenció un absceso subdural vertebral y compromiso paravertebral. Se realizó una intervención quirúrgica rápida y recibió terapia dirigida al germen aislado con evolución favorable.
Citas
Moritani T, Kim J, Capizzano AA, Kirby P, Kademian J, Sato Y. Pyogenic and non-pyogenic spinal infections: emphasis on diffusion-weighted imaging for the detection of abscesses and pus collections. Br J Radiol. 2014; 87(1041): 20140011.
Velissaris D, Aretha D, Fligou F, Filos KS. Spinal subdural staphylococcus aureus abscess: case report and review of the literature. World J Emerg Surg. 2009 Aug 6; 4:31.
Lim HY, Choi HJ, Kim S, Kuh SU. Chronic spinal subdural abscess mimicking an intradural-extramedullary tumor. Eur Spine J. 2013; 22 Suppl 3: S497-500.
Chen WC, Wang JL, Wang JT, Chen YC, Chang SC. Spinal epidural abscess due to staphylococcus aureus: clinical manifestations and outcomes. J Microbiol Immunol Infect. 2008 Jun; 41(3):215-21.
Berbari EF, Kanj SS, Kowalski TJ, Darouiche RO, Widmer AF, Schmitt SK, et al. 2015 Infectious Diseases Society of America (IDSA): clinical practice guidelines for the diagnosis and treatment of native vertebral osteomyelitis in adults. Clin Infect Dis. 2015 Sep 15; 61(6):e26-46.
Usoltseva N, Medina-Flores R, Rehman A, Samji S, D'Costa M. Spinal subdural abscess: a rare complication of decubitus ulcer. Clin Med Res. 2014 Sep; 12(1-2): 68-72.
Tunkel AR. Subdural empyema, epidural abscess, and suppurative intracranial thrombophlebitis. En: Mandell GL, Bennett J, Dolin R. Principles and practice of Infectious diseases Vol. 1. 7a ed. Philadelphia; Churchil Livingstone, Elsevier; 2010. p.1279-88.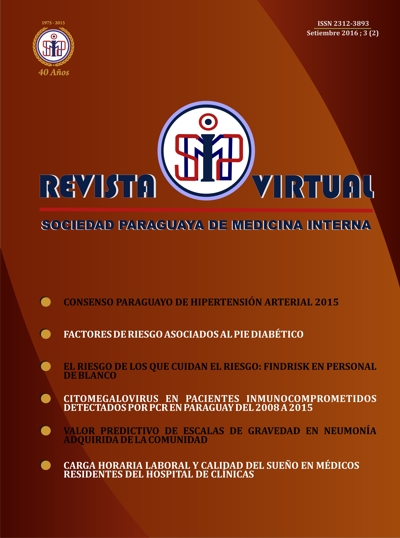 Sección
REPORTES DE CASOS