Disfunción tiroidea en pacientes con diabetes mellitus tipo 2 ¿Una asociación frecuente?
María Victoria Malvetti Maffei

Universidad Nacional de Asunción

Santiago Adelio Báez Cabral

Universidad Nacional de Asunción

Francisco Vicente Santa Cruz

Universidad Nacional de Asunción
Palabras clave:
disfunción tiroidea, diabetes mellitus, hipertiroidismo, hipotiroidismo
Resumen
Introducción: la disfunción tiroidea (DT) se observa con frecuencia en pacientes con diabetes mellitus tipo 2 (DM2) siendo el hipotiroidismo es el más frecuente.
Objetivos: determinar frecuencia de DT en pacientes con DM2, que consultan en la Primera Cátedra de Clínica Médica del Hospital de Clínicas (San Lorenzo, Paraguay), de enero a diciembre del 2013.
Material y Métodos: diseño observacional, retrospectivo, analítico. Incluimos pacientes de ambos sexos, mayores de 18 años. Excluimos pacientes con fármacos que  afecten función tiroidea, tiroidectomizados, enfermos renales crónicos.
Resultados: incluimos 254 pacientes, encontramos DT en 9,45% (n 24), diagnóstico previo 8,26% (n 21) y nuevos casos 1,18 % (n 3). Presentaron hipotiroidismo 66,7 % (n 16), siendo hipotiroidismo clínico 41,6% (n 10) e hipotiroidismo subclínico 25% (n 6). Hallamos hipertiroidismo en 33,3 (n 8), siendo hi­pertiroidismo clínico 20,8% (n 5) e hipertiroidismo subclínico 12,5% (n 3). De los 254 pacientes, 179 fueron mujeres (22 con DT) y 97 varones (2 con DT), [OR 6,6 (1,5-28,9) p 0,003]; 126 eran mayores de 50 años (17 con DT) y 128 eran ≤ 50 años (7 con DT): [OR 2,6 (1,1-6,7) p 0,03]. 
Conclusiones: la frecuencia de DT en  pacientes con DM2 fue 9,45%, con predominio en mujeres y mayores de 50 años, siendo más frecuente el hipotiroidismo clínico.
Citas
Jara A. Endocrinología. Editorial Panamericana. España. 2001. Pág 465- 83
American Diabetes Association. Standards of medical care in diabetes 2012. Diabetes Care. 2012 Jan;35 Suppl 1:S11-63.
Eggertsen R, Petersen K, Lundberg PA, Nyström E, Lindstedt G. Screening for thyroid disease in a primary care unit with a thyroid stimulating hormone assay with a low detection limit. BMJ. 1988 Dec 17;297(6663):1586-92.
Sawin CT, Geller A, Wolf PA, Belanger AJ, Baker E, Bacharach P, Wilson PW, Benjamin EJ, D'Agostino RB. Low serum thyrotropin concentrations as a risk factor for atrial fibrillation in older persons. N Engl J Med. 1994 Nov 10;331(19):1249-52.
Gharib H, Tuttle RM, Baskin HJ, Fish LH, Singer PA, McDermott MT. Subclinical thyroid dysfunction: a joint statement on management from the American Association of Clinical Endocrinologists, the American Thyroid Association, and the Endocrine Society. J Clin Endocrinol Metab. 2005 Jan;90(1):581-5.
Surks MI, Ortiz E, Daniels GH, Sawin CT, Col NF, Cobin RH, et al. Subclinical thyroid disease: scientific review and guidelines for diagnosis and management. JAMA. 2004 Jan 14;291(2):228-38.
Col NF, Surks MI, Daniels GH. Subclinical thyroid disease: clinical applications. JAMA. 2004 Jan 14;291(2):239-43.
Wiersinga WM. Adult hypothyroidism and myxedema coma. In: DeGroot LJ, Jameson JL (eds): Endocrinology (5th ed.). Philadelphia, WB Saunders Company, 2004, ch. 107
Garber JR, Cobin RH, Gharib H, Hennessey JV, Klein I, Mechanick JI, Pessah-Pollack R, Singer PA, Woeber KA; American Association Of Clinical Endocrinologists And American Thyroid Association Taskforce On Hypothyroidism In Adults. Clinical practice guidelines for hypothyroidism in adults: cosponsored by the American Association of Clinical Endocrinologists and the American Thyroid Association. Thyroid. 2012 Dec;22(12):1200-35.
Braverman LE. Iodine and the thyroid: 33 years of study. Thyroid. 1994 Fall;4(3):351-6.
Iwen KA, Schröder E, Brabant G. Thyroid hormones and the metabolic syndrome. Eur Thyroid J. 2013 Jun;2(2):83-92.
Brenta G. Why can insulin resistance be a natural consequence of thyroid dysfunction? J Thyroid Res. 2011;2011:152850.
Vyakaranam S, Vanaparthy S, Nori S, Palarapu S, Bhongir AV. Study of Insulin Resistance in Subclinical Hypothyroidism. Int J Health Sci Res. 2014 Sep;4(9):147-153.
Tanaci N, Ertugrul DT, Sahin M, Yucel M, Olcay I, Demirag NG, Gursoy A. Postprandial lipemia as a risk factor for cardiovascular disease in patients with hypothyroidism. Endocrine. 2006 Jun;29(3):451-6.
Cappola AR, Ladenson PW. Hypothyroidism and atherosclerosis. J Clin Endocrinol Metab. 2003 Jun;88(6):2438-44.
Abdel-Gayoum AA. Dyslipidemia and serum mineral profiles in patients with thyroid disorders. Saudi Med J. 2014 Dec;35(12):1469-76.
Clinical guideline, part 1. Screening for thyroid disease. American College of Physicians. Ann Intern Med. 1998 Jul 15;129(2):141-3.
Uppal V, Vij C, Bedi GK, Vij A, Banerjee BD. Thyroid disorders in patients of type 2 diabetes mellitus. Indian J Clin Biochem. 2013 Oct;28(4):336-41.
Wang C. The Relationship between Type 2 Diabetes Mellitus and Related Thyroid Diseases. J Diabetes Res. 2013;2013:390534.
Joffe BI, Distiller LA. Diabetes mellitus and hypothyroidism: Strange bedfellows or mutual companions? World J Diabetes. 2014 Dec 15;5(6):901-4.
Palma CC, Pavesi M, Nogueira VG, Clemente EL, Vasconcellos Mde F, Pereira LC Júnior, et al. Prevalence of thyroid dysfunction in patients with diabetes mellitus. Diabetol Metab Syndr. 2013 Oct 9;5(1):58.
Jerkovich F, Moncet D, Remón JA, Isaac G. Prevalencia de tiroideopatías en pacientes con diabetes tipo 2. Rev Argent Endocrinol Metab. 2014; 51(3):123-129.
Liu F, Yang Q, Gao N, Liu F, Chen S. Decreased plasma nesfatin-1 level is related to the thyroid dysfunction in patients with type 2 diabetes mellitus. J Diabetes Res. 2014;2014:128014.
Stengel A, Goebel M, Taché Y. Nesfatin-1: a novel inhibitory regulator of food intake and body weight. Obes Rev. 2011 Apr;12(4):261-71.
Al-Geffari M, Ahmad NA, Al-Sharqawi AH, Youssef AM, Alnaqeb D, Al-Rubeaan K. Risk Factors for Thyroid Dysfunction among Type 2 Diabetic Patients in a Highly Diabetes Mellitus Prevalent Society. Int J Endocrinol. 2013;2013:417920.
Papazafiropoulou A, Sotiropoulos A, Kokolaki A, Kardara M, Stamataki P, Pappas S. Prevalence of thyroid dysfunction among greek type 2 diabetic patients attending an outpatient clinic. J Clin Med Res. 2010 Mar 20;2(2):75-8.
Vanderpump MP, Tunbridge WM, French JM, Appleton D, Bates D, Clark F, et al. The incidence of thyroid disorders in the community: a twenty-year follow-up of the Whickham Survey. Clin Endocrinol (Oxf). 1995 Jul;43(1):55-68.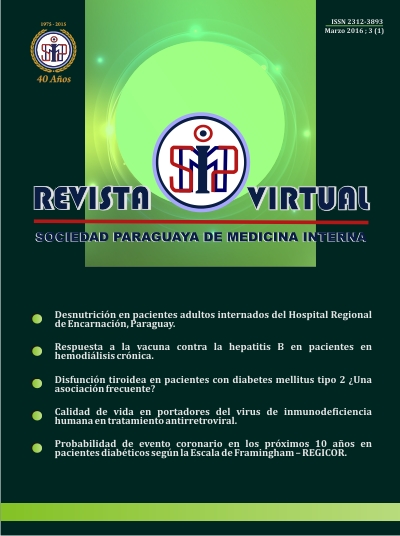 Sección
ARTICULOS ORIGINALES